Reasons You Should Buy a Shed Directly From a Builder
Why You Should Buy a Shed Directly From the Builder
Author: ShedsForSale.com Team
Posted: 08/24/2022
So you're interested in buying a shed. A shed is an excellent investment because it provides extra space to house your tools or can offer additional living space. You should keep a number of considerations in mind when purchasing a shed, including whether you're up to building it yourself or whether buying a pre-built shed is more suitable. To save you some frustration and uncertainty, we recommend that most folks should purchase a shed directly from a builder.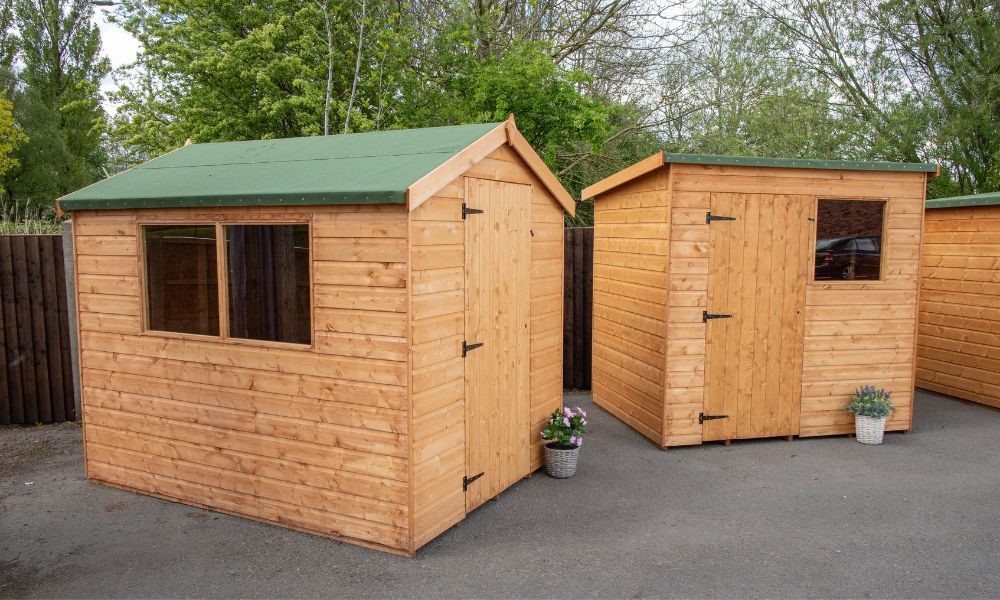 Why You Should Own a Shed
Before you buy a shed, ask yourself why you need one. As stated before, sheds offer extra space to store items that don't have a home. You can house anything in your shed, from holiday decorations to garden tools to workshop materials, with the proper organization methods. Sheds are popular for storing bikes, lawnmowers, and garden tools, but they can be used for much more!
You can transform the shed into a children's playhouse where they can store their toys and arts-and-crafts supplies, creating a safe space to play in without sacrificing your home's furniture or walls. Buying a shed will allow you to take your hobbies to the next level. With the extra space, you can immerse yourself in creativity and productivity since you have room to store all your supplies and work.
When searching for your new shed, you should know what you want to store or transform your shed into to ensure you have enough space. You don't need an enormous shed if just need a place to hold your garden tools and lawnmower. However, if you're planning to transform your shed into an additional living space, you would need to consider getting a larger shed.
Buying a Shed vs. Building Your Shed
When deciding to purchase a shed, you will be met with two options: building your own or buying a pre-built shed. Let's closely examine the two options to help you decide.
Buying Pre-Built
Buying a pre-built shed has many perks, and most significant is the fact that the hard work is already done for you. The only "hard work" you would need to do is selecting or designing your shed! Which, let's face it, is really the fun part. Depending on your customization, pre-built sheds are relatively affordable and allow you to explore your options before making a final decision.
Most shed suppliers, like ShedsForSale.com, will deliver the shed right to your home and set it up without you lifting a finger. This option is perfect for those who may not have time to build a shed or those who aren't handy.
Building Your Own
If you're someone who enjoys building things, building your shed may seem like a great idea. You can follow the instructions in your manual or online or purchase a kit with all the parts and instructions. However, building a shed only comes easy for those with readily available power tools and the know-how that comes from building things regularly.
Contrary to popular belief, building your shed can become expensive when you begin to tally up the equipment or extra materials needed. Buying a new hammer and screwdriver typically won't hurt your pocketbook. But you will pay hundreds of dollars if you need to buy power tools.
Building a shed also takes a reasonable amount of time. If you don't have the time to put it together, you might want to rethink this option.
4 Reasons Why You Should Buy a Shed Directly From the Builder
When it comes to purchasing a shed, your best option is to buy your shed directly from the builder. Buying your shed directly from the builder opens the door to more customization opportunities and is a cost-effective solution. Let's explore these four reasons why you should buy your shed directly from the manufacturer.
It's a More Cost-Efficient Option
Although it's challenging to pinpoint the exact cost of your new shed, buying a shed directly from the manufacturer is cheaper or equivalent to the prices at a shed dealership. The difference in prices depends on the quality of the shed. When you purchase your shed from retail dealerships, the rate is typically lower than the manufacturer's price but lacks customization options. If you want more bang for your buck and a lower chance of running into maintenance or repair issues, buying directly from the manufacturer is the way to go.
You Develop a Relationship With the Builder
Buying directly from the builder allows you and the builder to form a professional relationship. The builder will walk you through the process, give you options, and ask questions about what you want your shed to include. Going to a retailer doesn't give you that same experience. The manufacturer has likely been making sheds for years, meaning they can provide accurate information to help you along the way. Retailers often want to make a buck, so they may sell you just about anything remotely close to what you're looking for in a shed.
Allows You the Option to Customize Your Shed
The difference between buying your shed from a retailer and the manufacturer is the option to have your shed customized. Perhaps you're thinking about transforming a shed into additional living space; you would need to add electricity or other utilities to make your shed as comfortable as possible. When purchasing through a retail store, getting all you need is not always possible, forcing you to buy a shed that doesn't correlate with your style or doesn't have the desired features.
Purchasing from the manufacturer allows you to add features like an additional window, a different colored roof, or even a customized door. You can customize your shed to look like a mini version of your house! All of this is possible when you purchase directly from the builder.
You Get the Very Best Customer Experience
Purchasing a shed from the builder often brings the best customer experience. You can ask questions and receive accurate, detailed, and truthful answers. Manufacturers often have a lot of experience in sheds or construction, unlike sales reps who are there to sell anything the store tells them to. You want to work with people who intend to build and sell you something that will last.
ShedsForSale.com is an online store that has pre-built sheds for sale within a 100-mile radius from you. With endless options to choose from, you're bound to find the shed of your dreams. From garden sheds to sheds perfect for lounging, we'll deliver the shed of your dreams straight to your property! Check out our online store today.
The first place you go
to buy a shed.